THE BEST TRAVEL COMPANION ?
Introducing the 4 in 1 Leak-proof Travel Dispenser which allowed you to fill in all your bathing needs into one. It is design perfectly to match those who needs to travel often, organizer-lover, beautician, make up artist and more.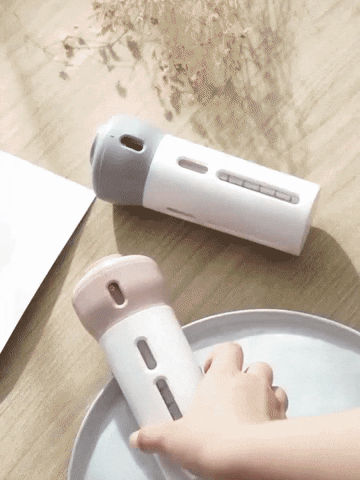 NO MORE MESSY BOTTLE SPILLS IN YOUR LUGGAGE ?
Worry-Free about the spilling and messy issue in your bag OR even your luggage. With the creative 4 in 1 dispenser idea, you can now bring along all your desire liquid with you easily for travelling anytime anywhere.
IT IS WELL-ORGANIZE
The design itself owned 4 different bottle with the same capacity of 40ml, it is big enough to store your daily bathing needs. With the sticker label slot, you don't have to worry the wrong picking issue. It is a true and well organizer, functions with stylish outlook while matching every one in this contemporary era. 
FEATURES:

Compatible with most hygiene and skin care products.

Leak proof and Durable: Prevent leaks and spillage disasters that get shampoo or lotion all over your stuff with the 4 in 1 travel dispenser.
Space Saving: No more excessive bottles that will take up precious luggage space. Reduces most of the storage space and unnecessary weight.
Portable: An ideal product for business trips, camping, gyms, holidays.
4-in-1 Design: Solves your problem perfectly, keeps all liquid tidy and organized, makes your travel much easier.
Eco-Friendly: Made of eco-friendly PET, no bad smells. And protected by a hard plastic case, no worry about deformation due to squeezing.
Heavy-Duty: Each inner reusable bottle has a capacity of 40ml.
SPECIFICATIONS:
Liquid Bottle Materials: PET; Accessories: PP; Case: ABS+PC.

Liquid Bottle Capacity: 40ml per bottle

One Spray: ≤0.25CC

Dimensions: 67*67*168(mm)

Storage Temperature Range: -20℃-50℃

Cleaning: Hand wash with warm water

Color: Grey & Pink

Package Size: 17*6.5*6.5cm / 6.69*2.56*2.56in

Package Weight: 147g / 5.19oz
PACKAGE:
1 * 4 in 1 Leak-proof Travel Dispenser